MASTER OF THE
"TEAR" TECHNIQUE
A MYSTIC TALE TELLER
Via his "tear" technique, Meller became an allusive, figurative painter whose works are always marked by an exciting mystic element and symbolism. Meller's works excude a strong personal feeling. Into them he pours his experiences, fantasies and imaginings. This gives the works their vividness and emotional charge.
The technique is based on several different layers of paint that are selectively scraped away.
In this finnishing stage, the artist highlights this symbolic richness of forms by adding a dash of pastel or bright blue. This blue can be a tiny detail somewhere in a corner of the painting or it may be more pronounced, appearing in one or two different places.
Whatever the degree of accentuation, the blue colour is always added to the painting last and is the spirit of the figure represented.
OÙ EST LE PAPILLON?
In the 1970s, the first butterfly appearing in the woman figures was a mystical, symbolic Night Butterfly. Today, the paintings also depict many other elements, such as the raven, nightingale and butterfly as well as a flower.
Commentary by Raimo Granberg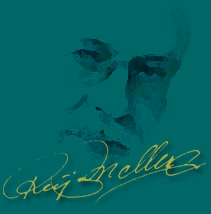 REIJO MELLER
Painter
Born 1944 in Kokkola, Finland
GROUP AND PRIVATE EXHIBITIONS:
Numerous exhibitions in Finland and
Sweden, in Switzerland, England and in France.